Host Defense
TEL +81-6-6879-4955,4962
FAX +81-6-6879-4264
Overview
Innate immunity is a defense system triggered by pattern recognition receptors, which recognize various pathogens such as bacteria, fungi, and viruses, and induce the production of inflammatory factors to trigger immune responses. To gain comprehensive understanding of the molecular mechanisms responsible for innate immunity in vivo, our lab focuses on the following theme:
Exploration of the relationship between immune responses and mechanisms that ensure mRNA stability
We have been investigating the comprehensive innate immune response induced by pattern recognition receptors that sense various pathogens. By studying the Toll-like receptor (TLR)-signaling pathway we found that a novel regulatory mechanism, "mRNA stability," controls inflammatory responses. Regnase-1, an endoribonuclease, constitutively degrades mRNAs encoding inflammatory cytokines. Once the TLR pathway is activated, the synthesis of mRNAs encoding inflammatory cytokines is promptly induced along with reduced enzymatic activity of Regnase-1. As a result, mRNAs encoding inflammatory cytokines are stably expressed, resulting in an ongoing inflammatory response. Thus, endogenous Regnase-1 negatively regulates the stability of mRNAs encoding inflammatory cytokines in normal immune cells. Once pathogens invade cells, Regnase-1-mediated negative regulation is released, leading to inflammation.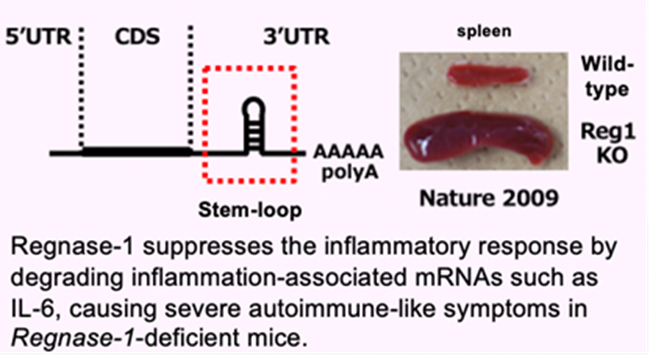 The temporary inactivation of Reganse-1 upon cellular activation is also found in stimulation with other proinflammatory cytokines or T-cell activation, suggesting the importance of Reganse-1 protein modification for regulation of innate immune response. Furthermore, we have found that Regnase-1 not only regulates inflammation and immune activation but also plays a critical role in tissue homeostasis through the mRNA degradation. To understand the novel aspects of mRNA regulation by Regnase-1, we will identify the Reganse-1 target genes associated with RNA metabolism in immune and non-immune cells.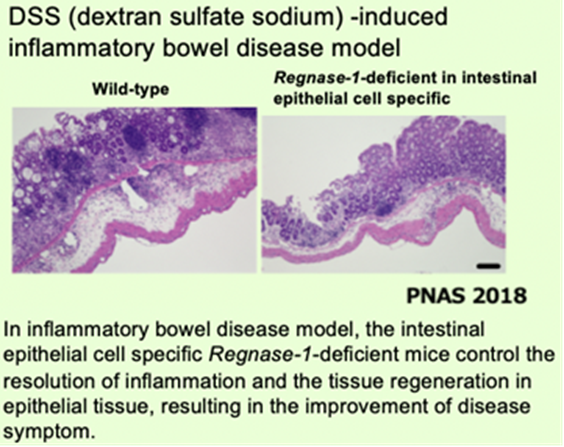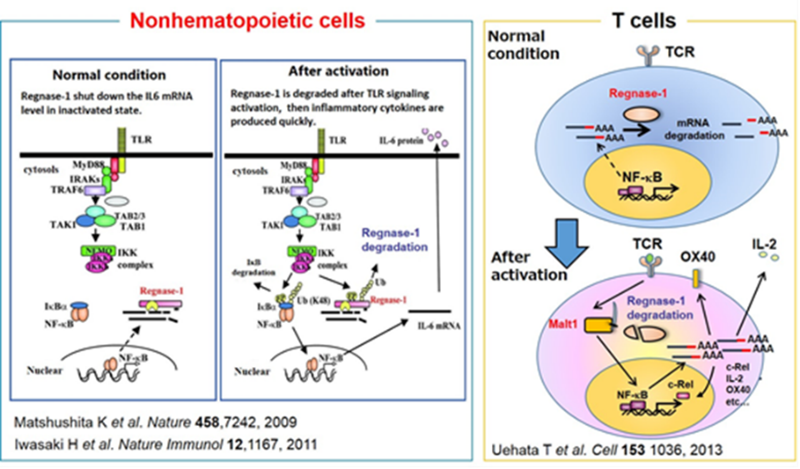 Principal Investigator
Shizuo Akira Professor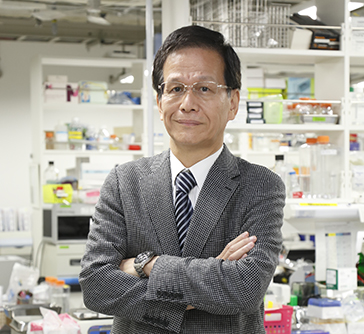 Research field
Pathogen recognition and innate immunity
Education history
| | |
| --- | --- |
| 1977 | Osaka University School of Medicine |
| 1984 | Osaka University, Graduate School of Medicine |
Research and career history
| | |
| --- | --- |
| 1977 | Clinical Training and Physician (-1980) |
| 1985 | Research Fellow, University of California, Berkeley (-1987) |
| 1987 | Research Associate, Institute for Molecular and Cellular Biology, Osaka University (-1995) |
| 1995 | Associate Professor, Institute for Molecular and Cellular Biology, Osaka University |
| 1996 | Professor, Hyogo College of Medicine (-1999) |
| 1999 | Professor, Research Institute for Microbial Diseases, Osaka University |
| 2007 | Director, Osaka University Immunology Frontier Research Center (-2019.6) |
| 2018 | Specially Appointed Professor, Osaka University Immunology Frontier Research Center |
Prize
| | |
| --- | --- |
| 2012 | Frederik B. Bang Award(IEIIS) |
| 2011 | Gairdner International Award |
| 2010 | Keio Medical Science Prize |
| 2010 | Avery-Landsteiner Prize |
| 2009 | Person of Cultural Merit |
| 2009 | Foreign Associate, National Academy of Science |
| 2007 | Milstein Award |
| 2007 | The Japan Academy Award The Imperial Award |
| 2007 | Uehara Prize |
| 2006 | William B Coley Award |
| 2006 | Asahi Prize |
| 2005 | The Emperor's Purple Ribbon Medal |
| 2004 | Robert Koch Prize |
| 2004 | Prize of Pricess Takamatsu Cancer Reseach Fund |
| 2003 | Takeda Medical Prize |
| 2002 | Osaka Science Prize |
| 2001 | Hideyo Noguchi Prize |
| 2000 | Inoue Prize for Science |
Members
Shizuo Akira Professor
sakirabiken.osaka-u.ac.jp


Kazuhiko Maeda

Associate Professor


kazmaedabiken.osaka-u.ac.jp

Kiyoharu Fukushima Assistant Professor
fukushimabiken.osaka-u.ac.jp

Shailendra Kumar Singh

Researcher
singh-skifrec.osaka-u.ac.jp

Achievements
Publications
Kozaki T, Komano J, Kanbayashi D, Takahama M, Misawa T, Satoh T, Takeuchi O, Kawai T, Shimizu S, Matsuura Y, Akira S, Saitoh T. Mitochondrial damage elicits a TCDD-inducible poly(ADP-ribose) polymerase-mediated antiviral response. Proc Natl Acad Sci U S A. 114(10): 2681-2686 (2017)
Satoh T, Nakagawa K, Sugihara F, Kuwahara R, Ashihara M, Yamane F, Minowa Y, Fukushima K, Ebina I, Yoshioka Y, Kumanogoh A, Akira S. Identification of an atypical monocyte and committed progenitor involved in fibrosis. Nature. 541(7635):96-101 (2017)
Satoh T, Akira S. Toll-Like Receptor Signaling and Its Inducible Proteins. Microbiol Spectr. 6, 4 (2016)
Maeda K, Akira S. TLR7 Structure: Cut in Z-Loop. Immunity. 45(4):705-707 (2016)
Martino MM, Maruyama K, Kuhn GA, Satoh T, Takeuchi O, Muller R, Akira S. Inhibition of IL-1R1/MyD88 signalling promotes mesenchymal stem cell-driven tissue regeneration. Nature Communications. 7:11051 (2016)
Kuniyoshi K, Takeuchi O, Pandey S, Satoh T, Iwasaki H, Akira S, Kawai T. Pivotal role of RNA-binding E3 ubiquitin ligase mEX3C in RIG-I-mediated antiviral innate immunity. Proc Natl Acad Sci U S A. 111(15):5646-5651 (2014)
Lee H, Komano J, Saitoh Y, Yamaoka S, Kozaki T, Misawa T, Takahama M, Satoh T, Takeuchi O, Yamamoto N, Matsuura Y, Saitoh T, Akira S. Zinc-finger antiviral protein mediates retinoic acid inducible gene I-like receptor-independent antiviral response to murine leukemia virus. Proc Natl Acad Sci U S A. 110(30):12379-12384 (2013)
Uehata T, Iwasaki H, Vandenbon A, Matsushita K, Hernandez-Cuellar E, Kuniyoshi K, Satoh T, Mino T, Suzuki Y, Standley DM, Tsujimura T, Rakugi H, Isaka Y, Takeuchi O, Akira S. Malt1-Induced Cleavage of Regnase-1 in CD4+ Helper T Cells Regulates Immune Activation. Cell. 153(5):1036-1049 (2013)
Zou J, Kawai T, Tsuchida T, Kozaki T, Tanaka H, Shin KS, Kumar H, Akira S. Poly IC Triggers a Cathepsin D- and IPS-1-Dependent Pathway to Enhance Cytokine Production and Mediate Dendritic Cell Necroptosis. Immunity. 38(49):717-728 (2013)
Satoh T, Kidoya H, Naito H, Yamamoto M, Takemura N, Nakagawa K, Yoshioka Y, Morii E, Takakura N, Takeuchi O, Akira S. Critical role of Trib1 in differentiation of tissue-resident M2-like macrophages. Nature. 495(7442):524-528 (2013)
Misawa T, Takahama M, Kozaki T, LeeH, Zou J, Saitoh T, Akira S. Microtubule-driven spatial arrangement of mitochondria promotes activation of the NLRP3 inflammasome. Nat Immunol. 14(5):454-460 (2013)
Iwasaki H, Takeuchi O, Teraguchi S, Matsushita K, Uehata T, Kuniyoshi K, Satoh T, Saitoh T, Matsushita M, Standley DM, Akira S. The IκB kinase complex regulates the stability of cytokine-encoding mRNA induced by TLR-IL-1R by controlling degradation of regnase-1. Nat Immunol. 12(12):1167-1175 (2011)
Saitoh T, Satoh T, Yamamoto N, Uematsu S, Takeuchi O, Kawai T, Akira S. Antiviral Protein Viperin Promotes Toll-like Receptor 7- and Toll-like Receptor 9-Mediated Type I Interferon Production in Plasmacytoid Dendritic Cells. Immunity. 34(3):352-63 (2011)
Tsuchida T, Zou J, Saitoh T, Kumar H, Abe T, Matsuura Y, Kawai T, Akira S. The Ubiquitin Ligase TRIM56 Regulates Innate Immune Responses to Intracellular Double-Stranded DNA. Immunity. 33(5):765-776 (2010)
Satoh T, Takeuchi O, Vandenbon A, Yasuda K, Tanaka Y, Kumagai Y, Miyake T, Matsushita K, Okazaki T, Saitoh T, Honma K, Matsuyama T, Yui K, Tsujimura T, Standley DM, Nakanishi K, Nakai K, Akira S. The Jmjd3-Irf4 axis regulates M2 macrophage polarization and host responses against helminth infection. Nat Immunol. 11(10):936-944 (2010)
Satoh T, Kato H, Kumagai Y, Yoneyama M, Sato S, Matsushita K, Tsujimura T, Fujita T, Akira S, Takeuchi O. LGP2 is a positive regulator of RIG-I- and MDA5-mediated antiviral responses. Proc Natl Acad Sci U S A. 107(4):1512-1517 (2010)
Saitoh T, Fujita N, Hayashi T, Takahara K, Satoh T, Lee H, Matsunaga K, Kageyama S, Omori H, Noda T, Yamamoto N, Kawai T, Ishii K, Takeuchi O, Yoshimori T, Akira S. Atg9a controls dsDNA-driven dynamic translocation of STING and the innate immune response. Proc Natl Acad Sci U S A. 106(49):20842-20846 (2009)
Kawagoe T, Takeuchi O, Takabatake Y, Kato H, Isaka Y, Tsujimura T, Akira S. TANK is a negative regulator of Toll-like receptor signaling and is critical for the prevention of autoimmune nephritis. Nat Immunol. 10(9):965-972 (2009)
Matsushita K, Takeuchi O, Standley DM, Kumagai Y, Kawagoe T, Miyake T, Satoh T, Kato H, Tsujimura T, Nakamura H, Akira S. Zc3h12a is an RNase essential for controlling immune responses by regulating mRNA decay. Nature. 458(7242):1185-1190 (2009)
Saitoh T, Fujita N, Jang MH, Uematsu S, Yang BG, Satoh T, Omori H, Noda T, Yamamoto N, Komatsu M, Tanaka K, Kawai T, Tsujimura T, Takeuchi O, Yoshimori T, Akira S. Loss of the autophagy protein Atg16L1 enhances endotoxin-induced IL-1beta production. Nature. 456(7219):264-268 (2008)