免疫微生物学
Microbiology and Immunology
概要
研究対象
当研究室では、炎症性腸疾患(IBD)、消化管感染症、大腸がんなどの疾病において、「腸内細菌叢は宿主免疫とどのように相互作用するのか」という基本的な疑問に答えるべく研究を行っています。私たちは、常在微生物群の中でも、いわゆる病原菌が病気を引き起こしたり悪化させたりするメカニズムや常在する有益な微生物群が宿主免疫と協力して消化管内の病原性微生物と闘うメカニズムに興味を持っています。さらに、病原性細菌と善玉細菌の競争を制御する上での食事の役割や食事に含まれる栄養素が宿主免疫に与える影響についても興味をもって研究を行っています。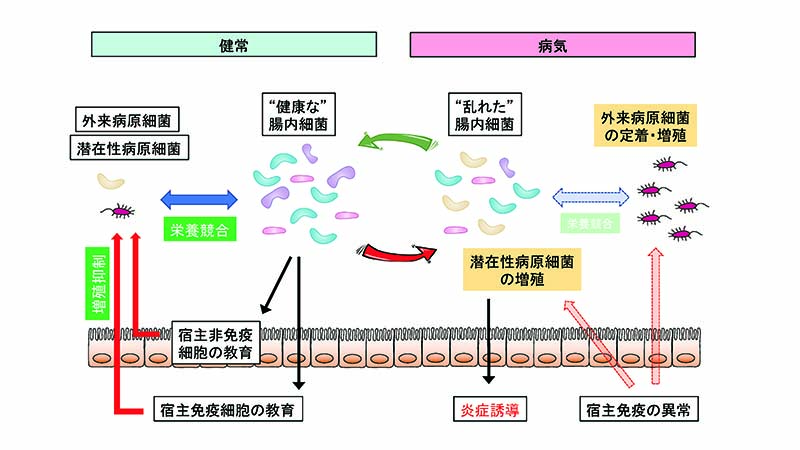 主任研究者
鎌田 信彦 教授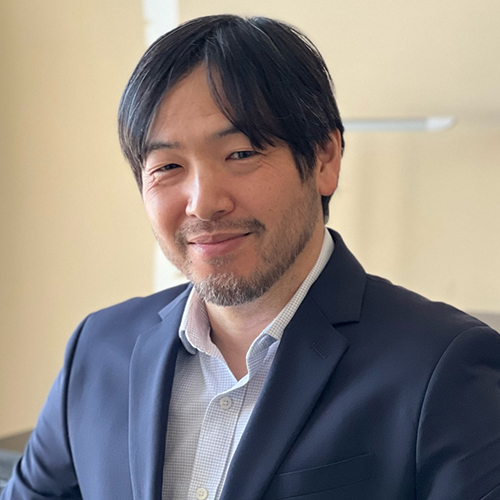 学歴
| | |
| --- | --- |
| 1998 | 神戸学院大学薬学部卒業 |
| 2000 | 徳島大学大学院薬学研究科修士課程修了(薬学修士) |
| 2007 | 慶応義塾大学大学院医学研究科博士課程(医学博士) |
職歴
| | |
| --- | --- |
| 2000 | 日本ケミカルリサーチ株式会社 研究員 (-2004) |
| 2001 | 慶應義塾大学医学部消化器内科 共同研究員 (-2004) |
| 2004 | 慶應義塾大学医学部消化器内科 助手 (-2007) |
| 2007 | 慶應義塾大学医学部消化器内科 助教 (-2009) |
| 2009 | ミシガン大学医学部病理学 Research Fellow (Mentor: Gabriel Núñez) (-2013) |
| 2013 | ミシガン大学医学部消化器内科 Assistant Professor (tenure-track) (-2020) |
| 2020– | ミシガン大学医学部消化器内科 Associate Professor (tenured) |
| 2021– | 大阪大学 免疫学フロンティア研究センター 教授 |
メンバー
鎌田 信彦 教授
nobukamadaifrec.osaka-u.ac.jp
業績
論文
Kamada N, et al. Unique CD14-positive intestinal macrophages contribute to the pathogenesis of Crohn's disease via IL-23/IFN-gamma axis. J Clin Invest. 2008: 118(6): 2269-2280.

Kamada N, et al. Hisamatsu T, Honda H, Kobayashi T, Chinen H, Takayama T, Kitazume MT, Okamoto S, Koganei K, Sugita A, Kanai T, Hibi T. Human CD14+ macrophages in intestinal lamina propria exhibit potent antigen presenting ability. J Immunol. 2009; 183(3):1724-1731.

Franchi L*, Kamada N* (* co-first author), et al. NLRC4-driven IL-1b Production Discriminates Between Pathogenic and Commensal Bacteria and Promotes Host Defense in the Intestine. Nat Immunol. 2012; 13(5):449-56.

Kamada N, et al. Regulated virulence controls the ability of a pathogen to compete with the gut microbiota. Science. 2012; 336(6086):1325-9.

Kamada N, et al. Humoral Immunity in the Gut Selectively Targets Phenotypically Virulent Attaching-and-Effacing Bacteria for Intraluminal Elimination. Cell Host Microbe. 2015;17(5):617-27. 42.

Seo SU, Kuffa P, Kitamoto S, Nagao-Kitamoto H, Rousseau J, Kim YG, Nunez G, Kamada N. Intestinal macrophages arising from CCR2+ monocytes control pathogen infection by activating innate lymphoid cells. Nat Commun. 2015;6:8010.

Nagao-Kitamoto H, Shreiner AB, Gilliland III MG, Kitamoto S, Ishii C, Hirayama A, Kuffa P, El-Zaatari M, Grasberger H, Seekatz AM, Higgins PDR, Young VB, Fukuda S, Kao JY, Kamada N. Functional characterization of inflammatory bowel disease-associated gut dysbiosis in gnotobiotic mice. Cell Mol Gastroenterol Hepatol. 2016;2(4):468-481.

Imai J, Kitamoto S, Sugihara K, Nagao-Kitamoto H, Hayashi A, Morhardt TL, Kuffa P, Higgins PDR, Barnich N, Kamada N. Flagellin-mediated activation of IL-33-ST2 signaling by a pathobiont promotes intestinal fibrosis. Mucosal Immunol. 2019; 12(3):632-643. doi: 10.1038/s41385-019-0138-4.

Kitamoto S, Alteri CJ, Rodrigues M, Nagao-Kitamoto H, Sugihara K, Himpsl SD, Bazzi M, Miyoshi M, Nishioka T, Hayashi A, Morhardt TL, Kuffa P, Grasberger H, El-Zaatari M, Bishu S, Ishii C, Hirayama A, Eaton KA, Dogan B, Simpson KW, Inohara N, Mobley HLT, Kao JY, Fukuda S, Barnich N, Kamada N. Dietary L-serine confers a competitive fitness advantage to Enterobacteriaceae in the inflamed gut. Nat Microbiol. 2020;5(1):116-125.

Nagao-Kitamoto H, Leslie JL, Kitamoto S, Jin C, Thomsson KA, Gillilland MG 3rd, Kuffa P, Goto Y, Jenq RR, Ishii C, Hirayama A, Seekatz AM, Martens EC, Eaton KA, Kao JY, Fukuda S, Higgins PDR, Karlsson NG, Young VB, Kamada N. Interleukin-22-mediated host glycosylation prevents Clostridioides difficile infection by modulating the metabolic activity of the gut microbiota. Nat Med. 2020;26(4):608-617.

Kitamoto S, Nagao-Kitamoto H, Jiao Y, Gillilland III MG, Hayashi A, Imai J, Sugihara K, Miyoshi M, Brazil JC, Kuffa P, Hill BD, Rizvi SM, Wen F, Bishu S, Inohara N, Eaton KA, Nusrat A, Lei YL, Giannobile WV, and Kamada N. The intermucosal connection between the mouth and gut in commensal pathobiont-driven colitis. Cell. 2020;182(2):447-462.